Το ελληνικό ξενοδοχείο που μάγεψε τους Financial Times!
165 ματαφυτεύσεις αιωνόβιων ελιών και χαρουπιών..12 στρέμματα φυτεμένων δωμάτων ...στην πρώτη γραμμή πράσινης τεχνολογίας και χρήση ελληνικών φυτών.
Κατασκευαστής έργου : Δομοτεχνική
Κατασκευαστής πρασίνου: Κ/Ξ ΤΟΠΙΟΔΟΜΗ ΕΠΕ-ΤΟΜΗ ΑΒΕΤΕ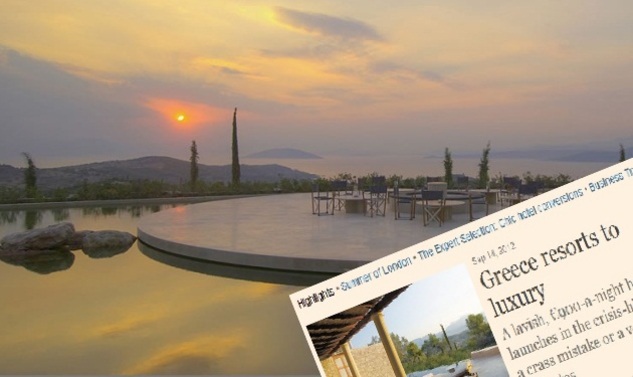 Ο διεθνής τύπος δεν συνήθιζε να "αγκαλιάζει" την Ελλάδα με τα δημοσιεύματά του μέχρι σήμερα. Τα άρθρα τους επικεντρώνονταν στις οικονομικές δυσκολίες και στα άσχημα που συμβαίνουν στη χώρα. Ωστόσο, μία από τις μεγαλύτερες οικονομικές εφημερίδες, οι Financial Times ασχολούνται με την ελληνική ομορφιά!
Η εφημερίδα δημοσίευσε, στις 14 Σεπτεμβρίου 2012, ένα άρθρομε τίτλο "Η Ελλάδα καταφεύγει στην πολυτέλεια" και παρουσιάζει εκτενώς το υπερπολυτελές ξενοδοχειακό συγκρότημα Amanzoe, που άνοιξε νωρίτερα το καλοκαίρι στην Αργολίδα.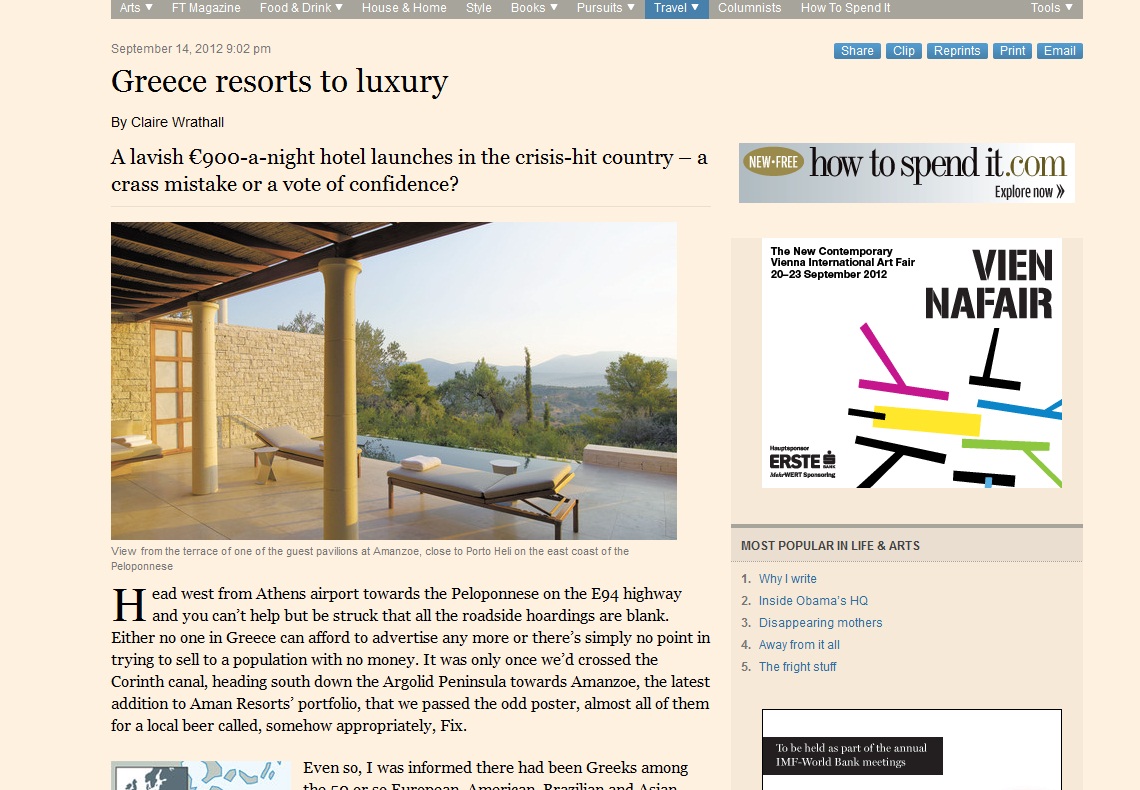 "Η Ελλάδα χρειάζεται χρήματα, οι Έλληνες χρειάζονται θέσεις εργασίας και οι πιστοί οπαδοί των Aman Resorts διαθέτουν χρήματα για να ξοδέψουν" αναφέρει ο αρθρογράφος ο οποίος μαγεύτηκε από την ομορφιά του ξενοδοχείου και όχι άδικα.
Δες φωτογραφίες από το ξενοδοχείο και θα καταλάβεις!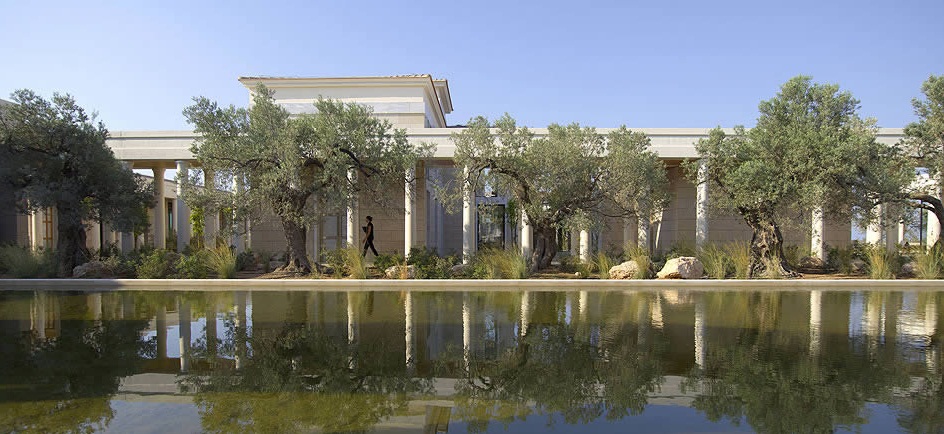 Σχεδιασμένο από τον Ed Tuttle, το φημισμένο αρχιτέκτονα των Aman, το Amanzoe μοιάζει με μια "ακρόπολη" στην κορυφή ενός λόφου, με ανεξάρτητα πέτρινα οικοδομήματα, που έχουν επίπεδες σκεπές φυτευμένες με λεβάντα, δενδρολίβανο και άλλα αρωματικά μεσογειακά βότανα, καθώς και ιδιωτικές πισίνες υπερχείλισης, περιγράφει ο συντάκτης των Financial Times.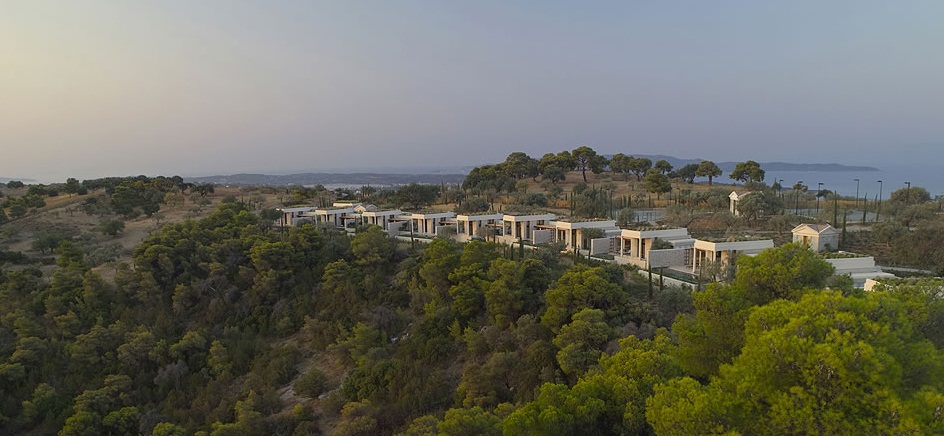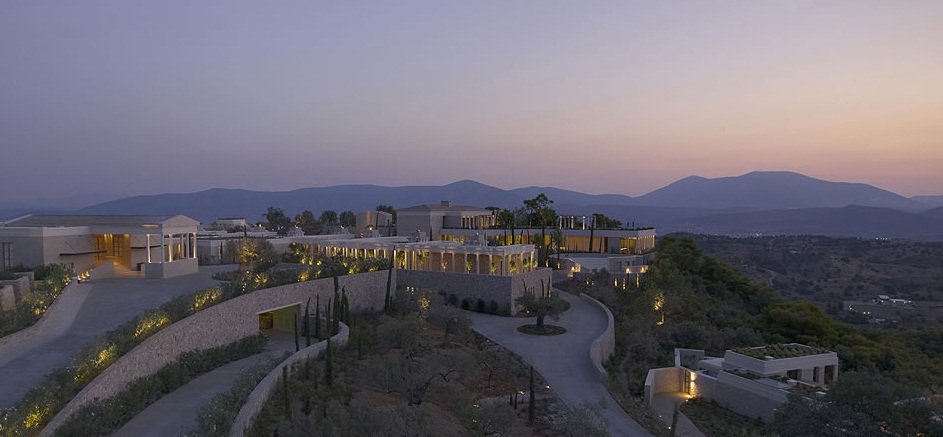 Στην κορυφή του λόφου, 183 μέτρα πάνω από το επίπεδο της θάλασσας, έχουν στηθεί δύο επιβλητικά κτίρια που στεγάζουν το εστιατόριο και άλλους κοινόχρηστους χώρους.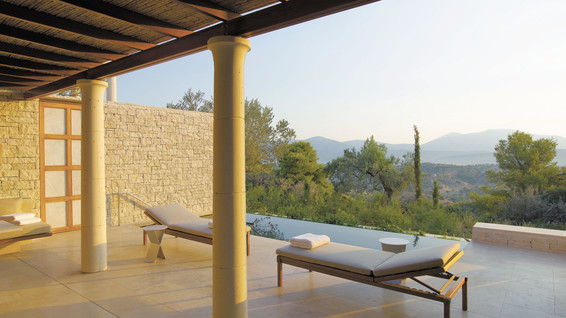 Ολόκληρο το συγκρότημα αποπνέει ένα ύφος που θα χαρακτήριζε κανείς μοντέρνο νεοκλασικό, με τις συστάδες κολόνων σχεδόν Δωρικού ρυθμού -566 στο σύνολο- και πολλά εκτάρια ανοικτόχρωμου μαρμάρου.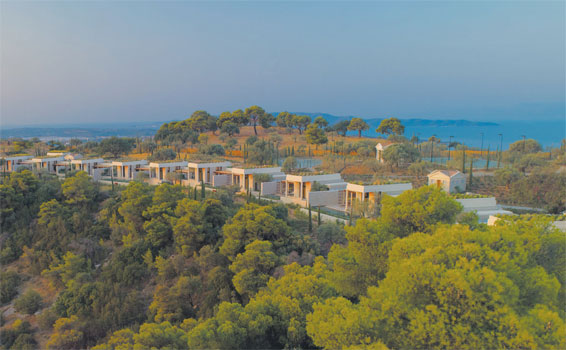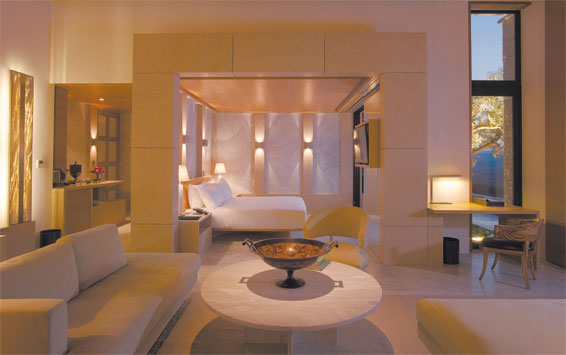 Τα πολυτελή δωμάτια είναι υπέροχα, με χαλαρό, ήρεμο, σύγχρονο εσωτερικό και αυλή 100 τ.μ. με εκπληκτική πανοραμική θέα του βαθυγάλαζου Αιγαίου, των Σπετσών και της Σπετσοπούλας και στο βάθος τα πλούσια σε μύθους βουνά της Αρκαδίας.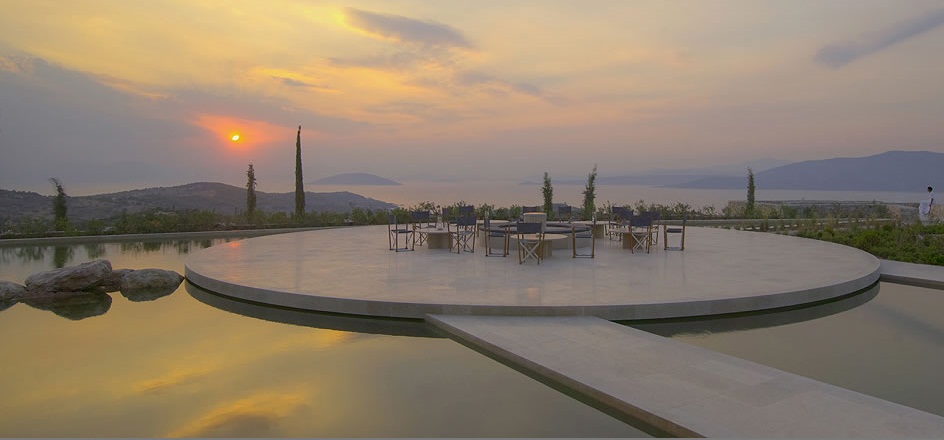 πηγη:.tlife.gr
Γiα πληροφορίες στο 2106017403 ΤΟΠΙΟΔΟΜΗ
High quality global journalism requires investment. Please share this article with others using the link below, do not cut & paste the article. See our Ts&Cs and Copyright Policy for more detail. Email ftsales.support@ft.com to buy additional rights. http://www.ft.com/cms/s/2/3d757728-f8d1-11e1-8d92-00144feabdc0.html#ixzz277CbBAUt
A lavish €900-a-night hotel launches in the crisis-hit country – a crass mistake or a vote of confidence?
H
ead west from Athens airport towards the Peloponnese on the E94 highway and you can't help but be struck that all the roadside hoardings are blank. Either no one in Greece can afford to advertise any more or there's simply no point in trying to sell to a population with no money. It was only once we'd crossed the Corinth canal, heading south down the Argolid Peninsula towards Amanzoe, the latest addition to Aman Resorts' portfolio, that we passed the odd poster, almost all of them for a local beer called, somehow appropriately, Fix.
Even so, I was informed there had been Greeks among the 50 or so European, American, Brazilian and Asian guests staying at Amanzoe the week of its opening on September 1, a capacity crowd given that not all the projected 38 "pavilions" are open yet.
Some arrived in the Aman helicopter, an 18-minute hop from Athens. Those up for roughing it took the hydrofoil, an old Russian vessel that used to ply the Volga, from Piraeus to Porto Heli. But most travelled by car, as I did, driven by self-effacing Yannis, one of the hotel's personable staff drivers. Educated at university in the UK, he'd been a top-level basketball coach, working in China and Qatar, then a sports presenter on Greek television. But that was then. Now 34, with a young family in Athens, he was grateful for a regular wage. In any case, he said, he enjoyed the work: his colleagues were mostly highly educated (one senses there was a high-calibre pool to recruit from); Aman was a good employer; and he got to meet "many very interesting guests".
If the idea of a hotel costing €900 or so a night (once VAT, a modest 6.5 per cent, and a sensational breakfast of yoghurt, honeycomb, figs and more are factored in) opening in Greece at a time of acute austerity seemed somehow insensitive or just wrong, our conversation over the 200km drive convinced me otherwise. Greece needs euros, Greeks need jobs, and Aman Resorts' devoted followers tend to have money to spend.
Designed by Ed Tuttle, the doyen of Aman architects, Amanzoe has been configured as a hillside "acropolis" of standalone stone houses, with flat roofs planted with lavender, rosemary and other fragrant Mediterranean shrubs, and their own infinity pools. At the top of the hill, 183m above sea level, stand a couple of imposing buildings containing the restaurant and other public areas. These evoke, just a little preposterously, the Parthenon as the Greek-born Italian artist Giorgio di Chirico might have painted it. Indeed, the whole site conjures a style you might call neo-neoclassical, with its colonnades of not-quite Doric columns – 566 of them – and acres of pale marble. They're certainly striking but redolent not so much of the Enkoimeterion and amphitheatre at Epidaurus (45 minutes away by car), the Treasury of Atreus at Mycenae or the Temple of Hera at Argos (both about an hour's drive) as of the fascist interpretations of classicism you find in Rome, though on a less aggrandising scale.
As places to stay, however, the pavilions are superb. Mine, in the least expensive category, was as pleasing and perfectly configured as any hotel room I've slept in. Its cool, calm, contemporary interior had a floor of polished veiny grey marble, a lofty oak ceiling and sufficient furniture, upholstered in greige yet somehow sumptuous Jim Thompson textiles. It was also beautifully lit, with wooden louvres and sliding screens across its wall of glass, and panels of translucent marble in the doors to filter the sunlight. At 100 sq m, the wraparound terrace was as big as the room itself, its view a sublime panorama of ultramarine Aegean, the islands of Spetses and Spetsopoula and the myth-rich mountains of Arkhadia beyond.
Amanzoe feels like a proper sanctuary. There's a well-stocked library; a little amphitheatre for live performances; a couple of very good unpretentious restaurants; and an outstanding spa where every treatment room has its own steam room, bathroom and, because this is an all-year resort, fireplace. There are free daily Pilates, yoga and stretch classes, and a couple of substantial pools lined in viridian marble, one set aside for children.
If there's an apparent snag, it's that the beach is 6km away by road, though there are complimentary Mercedes SUVs on call to drive you there. Alternatively, a dusty path wends cross country and takes half an hour on foot (though they don't recommend it in hot weather, and warned me about some fierce farmer's dogs). But the beach is worth the trip. The sand is the colour and texture of demerara sugar and there's shingle at the waterline, but it's a perfect secluded bay, with two super-stylish 25m pools, sunloungers on the surrounding decking, wi-fi, a restaurant and access to the hotel's two swank powerboats, a Pershing 62 and a Wally One.
There are plans to put a spa on the beach, for the opening of Amanzoe is only the first phase of a series of developments in the area by the hotel's owner, Dolphin Capital Investors, which intends to build up to 36 villas on the Aman site, a Jack Nicklaus golf course and two further hotels at nearby Porto Heli. One, Nikki Beach, will be the second hotel venture by the brash Miami-based beach-club brand. The other, in contrast, will be a Chedi, run by GHM, the slightly less illustrious hotel management company of which Adrian Zecha, Aman's founder and chief executive, is also a director.
It's a vote of confidence in the potential for tourism of this part of Greece from the man who might be described as godfather of the whole "design hotel" trend and who has probably exerted greater influence on luxury hotel-keeping than anyone since Cesar Ritz. Zecha's first minimalist masterpiece, Amanpuri, which opened in 1988 in Phuket, Thailand, had begun as a plan for a holiday home but became a blueprint for what he envisaged as an ideal hotel: a place where privacy was paramount, there were no formal check-in procedures, you never had to sign for anything, minibar contents were complimentary, and the staff would anticipate – not merely respond to – requests, and remember your name, too.
Those tenets endure across the 26 Aman Resorts – about one-third of them owned by the brand, the rest under management contract – that exist in 17 countries from Bhutan to the US, via Cambodia, Montenegro and French Polynesia. But Zecha retains only a fractional stake in the company, 97 per cent of which was acquired by the Indian real estate conglomerate DLF in 2007 for $400m. And for all the brand's prestige, these are uncertain times for the company, which has been for sale since 2010, when DLF, which is carrying debts of more than $4bn, approached Goldman Sachs to find a buyer. Interest has been expressed by LVMH, the Malaysian government's investment fund Khazanah Nasional Berhad, Qatar Holding LLC and China's HNA Group, but no deal has yet been sealed.
I hope Aman finds a sympathetic new owner soon, not least because the 190 staff at Amanzoe deserve a secure future. As do the local farmers, fishermen, beekeepers and bakers who supply its restaurants and are credited by name on the menu. It's a restorative, responsible place, and being there made me long to see it in winter in the snow and again in springtime, when the countryside is full of flowers and the landscaping has matured. In Greece, at least, there is nowhere like it, nor likely to be for some time.
.......................................................................
Tourism and the economy: Cautious optimism is the new Grecian formula
A record 16.5m foreign visitors travelled to Greece last year, a 9 per cent rise on 2010. But by May this year, forecasts for 2012 were gloomy in the extreme, with Andreas Andreadis, president of the Association of Greek Tourism Enterprises, predicting a drop of "something like 10 to 15 per cent" after the first of this year's elections was won by the anti-bailout party Syriza.
Even this seemed optimistic. In the first quarter of 2012, tourism receipts from EU visitors had fallen 28 per cent year-on-year. In June, the UK magazine Travel Weekly reported the closure of 17 hotels on Corfu. According to the Trivago Hotel Price Index, the average cost of a room in Athens fell by 19 per cent from £78 in May to £63 in August.
But things have picked up since Antonis Samaras, of the New Democracy party, became prime minister in June, says Andreadis. "Greece lost at least 1m bookings between the two elections, so our targets were revised down, but things have improved dramatically, and we've had an excellent second half of the season." Income is still expected to fall to about €10bn, compared with €10.5bn in 2011, but Andreadis remains positive. His own hotels have seen an 8 per cent rise in turnover this summer. Eurozone business may have fallen by about a quarter but, according to the Turkish newspaper Hurriyet, the number of Turkish visitors has doubled this year since Greece relaxed its visa requirements. The Russian market has grown by 30 per cent, and the UK market is up 15 per cent.
As Rory Pilkington, managing director of British travel company Bailey Robinson, which offers a dozen top-tier hotels in Greece, says: "Before the elections people were wary but we've seen a lot of late bookings. There was a perception that Greece is facing bankruptcy and, therefore, there must be some really good deals, which was never the case, and that did deter some people. But hotels cost a lot to run – they can't just give holidays away."
πηγη: ft.com
.......................................................................